Ken King Thoroughbreds has experienced success at the highest level – and on multiple occasions.
Stakes winners include Bon Aurum, Set Square, Bon Hoffa, Rinky Dink, Bons A Pearla, Bons Away, Wildly, Helideck, Late Charge, Skalato, Arctic Command
Career win totals stand at 404 of which 250 have been bred by Ken King Thoroughbreds.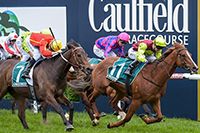 Sep 24, 2016 - BON AURUM WINS G1 Bon Aurum graduated to become a Group 1-winning entire on Saturday at Caulfield, the in-form galloper coming from midfield as he does to win the Sir Rupert Clarke...