Success and Highlights
---
Summary Winning Records
| | |
| --- | --- |
| Group 1s | 5 |
| Group 2s | 1 |
| Group 3s | 6 |
| Listed | 10 |
| Total Stakes Wins | 22 |
| City & Country | 331 |
| Total Winners | 354 |
| Ken King Bred | 209 |
---
General
Jul 08, 2013
LATE CHARGE Wins Echuca 2YO SV Gold Maiden 1200m
We unvielled another 1st up impressive 2YO winner today at Echuca when 2YO Late Charge on debut missed the start and then stormed home to win effortlessly by 5L. Jockey Jack Hill was so surprised with the ease of the win he shook his head in disbelief. Patrick Payne his trainer thinks he has a bright future as a 3YO this Spring * Parador Park bred.
---
General
Jun 20, 2013
IMPECCABLE ME WINS BALLARAT 2YO SV GOLD MAIDEN 1200M
Impeccable Me made an outstanding debut today to win his 2YO Maiden at Ballarat over 1200m in a determined sustained run from well back. Travelled 4 and 5 wide throughout but was strong to the line on the heavy track and looks a very nice prospect for the future. His win today brought up our 200th winner. * Ken King bred
---
General
Jun 16, 2013
VICTORIAN CROWN WINS MAIDEN AT GEELONG
Victorian Crown resumed after a spell for new trainer Patrick Payne to win by nose his Maiden over 1300m at Geelong Synthetic today and edge out the shortie from the Price stable. Michele Payne gave him a good box seat run in transit and presented him on the turn to gain a clear run and drove him to the front in the straight.
---
General
May 06, 2013
FENESTRON WINS 1600m MAIDEN at BAIRNSDALE
Fenestron wins his Maiden over 1600m at Bairnsdale today at the nice odds of 25/1. Daniel Stackhouse gave him a terrific run in transit sitting back midfield on the fence then driving up along the rails at the top of the straight to draw away and win easily.
---
General
May 06, 2013
I'M ADAMANT Wins Maiden 1200m Murwillumbah
I'm Adamant breaks through at her 1st start this prep for a convincing win over 1200m at Murwillumbah today. Given a gun ride by Glen Colless she jumped well, box seated then got clear at top of straight to draw away from her opposition. * Ken King bred
---
General
Feb 16, 2013
BELLS OF TROY WINS Hilton Nicholas Handicap at Flemington
Bells Of Troy continued her development as a stayer of the future with a gutsy win from well back in the field to beat a good field with a late blistering burst in the Hilton Nicholas Handicap over 2000m at Flemington today. * Ken King bred
---
General
Jan 22, 2013
HIDDEN BURST WINS F&M Maiden over 1000m TOWNSVILLE
The unluckiest horse in our Group, Hidden Burst after 7 placings in Maiden company finally broke through to win her Maiden over 1000m at Townsville today. She led from start to finish to record a gutsy win. * Ken King bred
---
General
Mar 17, 2013
PRECIOUS JEWEL WINS YARRA VALLEY MAIDEN 1950m
Precious Jewel broke through to win her Maiden at Yarra Valley over 1950m in dominant fashion. Stepping up to a staying trip the 1st time she showed her likely for a trip and may be another nice staying prospect
---
General
Jan 21, 2013
FLYING KYLE WINS R62 1600m WANGARATTA
Flying Kyle stepped up in distance today and showed his liking for the 1600m trip with a convincing win. From his good inside gate the jock Damien Lane gave him the run of the race in the box seat, then got him clear running room at top of straight to draw away and outstay of his rivals.*Ken King bred
---
General
Jan 20, 2013
MIGHTIEST WINS ON DEBUT
MIghtiest wins on debut at Pakenham today in a 3YO SV Maiden over 1300m. Drew the wide gate, raced three wide and was green throughout but had to much natural ability for his rivals to win by 2L eased down.*Ken King bred
---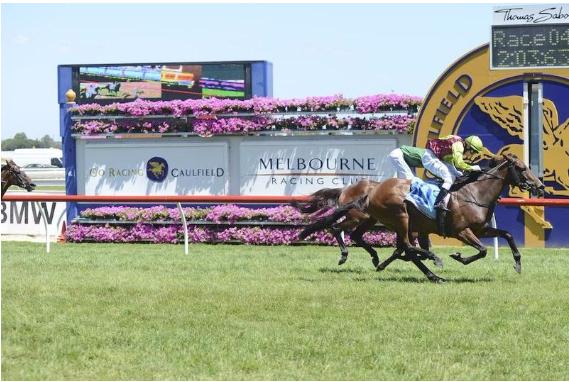 General
Dec 26, 2012
BELLS OF TROY WINS CAULFIELD FRANK O'BRIEN HANDICAP 2000m
Bells Of Troy wins her 1st City race at Caulfield today in a Mares R89 over 2000m worth $100,000. She settled at the rear of the field in the run and came to the outside at top of straight to sweep to the lead in a long sustained finishing burst. Ridden a treat by leading jockey Craig Newitt.*ken King bred
---
General
Nov 29, 2012
BEAUX STRATA ROCKHAMPTON CLASS 3 1600m
Beaux Strata wins three in a row. He stepped out at Rockampton today in a Class 3 over 1600m carrying 59kgs to draw away from his rivals in the straight in what was his best effort todate.
---
General
Nov 20, 2012
BEAUX STRATA WINS MACKAY CLASS 2 1560M
Beaux Strata gives a bold front running exhibition to make it two wins in a row at Mackay over 1560m in a Class 2. The run was noteworthy because he carried 5kgs more that his rivals and was headed in the straight but fought the race out doggardly to fight back and win
---
Group 1 Win
Nov 09, 2012
GRACIOUS GODDESS WINS CRANBOURNE 1600m MAIDEN
Stormed to the front on the turn to draw away for a comprehensive win
---
General
Oct 23, 2012
BEAUX STRATA WINS MACKAY CLASS 1 1800M
After an unlucky 2nd where he was beaten by the shortest margins Beaux Strata atones and wins in good style a Class 1 at Mackay over 1800m
---
General
Oct 13, 2012
FLYING KYLE WINS MAIDEN 1300M PAKENHAM
Flying Kyle breaks through at start 5 to win his Maiden in strong fashion at Pakenham today over 1300m on a heavy 8 track. Jockey Craig Robertson had him settled at the back of the field early then set him alight coming to the home turn to hit the front at the top of the staight and draw away to win. * Parador Park bred
---
General
Oct 07, 2012
TANGO KING WINS SUNSHINE COAST CLASS 1 1400m
Tango King continued his good form this prep bringing up his 2nd win from 3 starts and is developing into a nice horse. Carrying top weight he led from start to finish to win by 2L with something in hand * Parador Park bred
---
General
Oct 06, 2012
OUR LUCKY DAY WINS MURTOA MAIDEN 1600m
Our Lucky Day breaks through and wins her Maiden at Murtoa today in Slow 7 track conditions that did not suit. Patient Eddie Casser ride for trainer Kelvin Southey * Parador Park bred
---
General
Sep 01, 2012
TANGO KING WINS GOLD COAST MAIDEN 1200m
Tango King returned to racing with a strong 1st up effort to win his Maiden at Gold Coast today by 1L. * Parador Park Bred
---
General
May 15, 2012
HUSSANA CLASS 6 MACKAY 1300M
Hussana brought up win number 6 today when she finished powerfully from well back in a Class 6 over 1300m at Mackay
---
General
Feb 24, 2012
SKALATONIC WINS 2nd IPSWICH CLASS 2
Skalatonic (by Skalato) goes back to back with his 2nd win in succession at Ipswich in a Class 2 over 1666m. * Parador Park bred
---
General
Feb 18, 2012
BELLS OF TROY WINS GEELONG F&M MAIDEN
Bells Of Troy had her 1st start today and did it in grand style winning a F&M Maiden at Geelong over 1412m. It was a very good training effort by Wendy Kelly to have her right for the win over 1412m 1st up. Jockey Craig Robertson gave her a beautiful ride mid field the getting her into the clear at the top of the straight and finishing powerfully to win drawing away from the opposition. * Parador Park bred
---
General
Feb 03, 2012
SKALATONIC WINS IPSWICH CLASS 2
Former Victorian Skalatonic (by SKALATO) breaks through for new trainer Matthew Dunn at Ipswich in a Class 2 over 1540m by 2.5L on Heavy 9 surface
---
General
Dec 09, 2011
STAKED EMOTION IPSWICH MAIDEN 1350m
Staked Emotion (by Skalato) has his break through win at Ipswich today in a Maiden over 1350m. Trained by Matt Dunn and ridden by Glen Colless the horse was given a great run in transit in the box seat then peeled out at the top of the straight to win running away from his rivals