Success and Highlights
---
Summary Winning Records
| | |
| --- | --- |
| Group 1s | 5 |
| Group 2s | 1 |
| Group 3s | 6 |
| Listed | 9 |
| Total Stakes Wins | 21 |
| City & Country | 316 |
| Total Winners | 337 |
| Ken King Bred | 195 |
---
Group 1 Win
Sep 24, 2016
BON AURUM WINS G1
Bon Aurum graduated to become a Group 1-winning entire on Saturday at Caulfield, the in-form galloper coming from midfield as he does to win the Sir Rupert Clarke Stakes. Bred by Ken King Thoroughbreds
---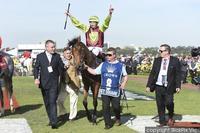 Group 1 Win
Nov 06, 2014
SET SQUARE WINS $1m Gr1 CROWN OAKS FLEMINGTON
Set Squares unbelievable Spring continued today winning at her 4th race start the Gr1 Crown Oaks at Flemington over 2500m. The Reset filly trained by Ciaron Maher and ridden by Hugh Bowmen at her 1st preparation has now won her last 3 starts and looks to be an outstanding prospect for the future improving every time she steps out on the race track. *Ken King bred
---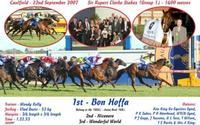 Group 1 Win
Sep 22, 2007
Bon Hoffa
SIr Rupert Clarke Stakes
---
Group 1 Win
May 13, 2004
Rinky Dink
Schweppes Oaks Morphetville
---
Group 2 Win
Oct 28, 2000
Skalato
AAMI Vase Moonee Valey
---
Group 3 Win
Sep 26, 2015
BON AURUM wins G3 Caulfield Guineas Prelude
Bon Aurum brings up back to back Stakes wins today by beating a quality field of 3YO's in the Caulfield Guineas Prelude over 1400m *Ken King bred
---
Group 3 Win
Sep 06, 2008
Bon Hoffa
Bobby Lewis Quality
---
Group 3 Win
Oct 06, 2010
Arctic Command
Hong Kong Jockey Club -Marybyrnong Plate
---
Group 3 Win
May 17, 2008
Helideck
BTC Sprint *Ken King bred
---
Listed Race
Sep 23, 2017
Bons Away Wins Testa Rossa Stakes Caulfield
Bons Away added Black Type to his resume by winning the Listed Testa Rossa Stakes at Caulfield over 1200m. He had the fastest last 800m 600m and 400m on the day. Another Ken King Thoroughbreds bred winner
---
Group 3 Win
Sep 08, 2007
Bon Hoffa
Bobby Lewis Quality
---
Listed Race
Sep 10, 2016
BON AURUM WINS SOFITEL STAKES
Bon Aurum returns to Flemington for the 1st time as a 4YO and dominates his rivals to win the Listed Sofitel Stakes *Ken King bred
---
Listed Race
Sep 12, 2015
BON AURUM WINS LISTED PIN & WIN STAKES FLEMINGTON
3YO colt BON AURUM produces an outstanding run to outclass his rivals at Flemington today in the LISTED Pin & Win Stakes over 1400m *Ken King bred
---
Listed Race
Oct 18, 2014
SET SQUARE WINS LISTED ETHEREAL STAKES CAULFIELD
Reset filly SET SQUARE wins the Listed Ethereal Stakes for 3YO Fillies over 2000m in impressive style at her 3rd race start. Promising young stayer with a future *Ken King bred
---
Listed Race
Sep 13, 2014
LATE CHARGE WINS LISTED SOFITEL at FLEMINGTON
LATE CHARGE raced wide the trip and still managed to storm home at Flemington today to win the Listed Sofitel over 1400m. He scorched home the last 1000m in a tick over 56s. The Wendy Kelly and Vlad Duric combination carried on their winning way with the horse bringing up his 2nd win in consecutive starts.*Ken King bred
---
Listed Race
May 03, 2008
Helideck
Prime Ministers Cup
---
Listed Race
Sep 03, 2005
Wildly
Bobby Lewis Quality
---
Listed Race
Feb 25, 2004
Rinky Dink
Tasmanian Turf Club
---
Listed Race
Nov 07, 2002
Rinky Dink
Adams Platform Stakes- 1000m (Listed)
---
Listed Race
Jun 11, 2005
Wildly
A R CReswick Stakes -1200m
---
General
Nov 11, 2018
Saturation Wins At Moe
Saturation continued her progression through the grades winning a BM58 over 1208m at Moe.
---
General
Jul 21, 2018
Saturation Wins 2YO Maiden
Saturation breaks through for a win at Moe late in the 2YO season over 1200m
---
General
Apr 22, 2018
Gibbon Gets Bob In
Gibbon brought his 5th career win up today at Ballarat in BM84 over 1000m. last to first in searching run. Ken King bred.
---
General
Apr 06, 2018
Monkey Magic Wins Cranbourne
Monkey Magic wins a BM64 over 1000m at Cranbourne by 2.75L. That was her 2nd career win from 10 starts. Ken King bred